These Vegan Enchiladas are so yummy and easy to make. You can get creative with the fillings and add in tofu if you like. But this recipe is a healthy vegetable enchilada recipe, packed with good for you ingredients!
I used vegan cheese to fill and top the enchiladas, but if you want to make vegetarian enchiladas you can use cheddar cheese instead.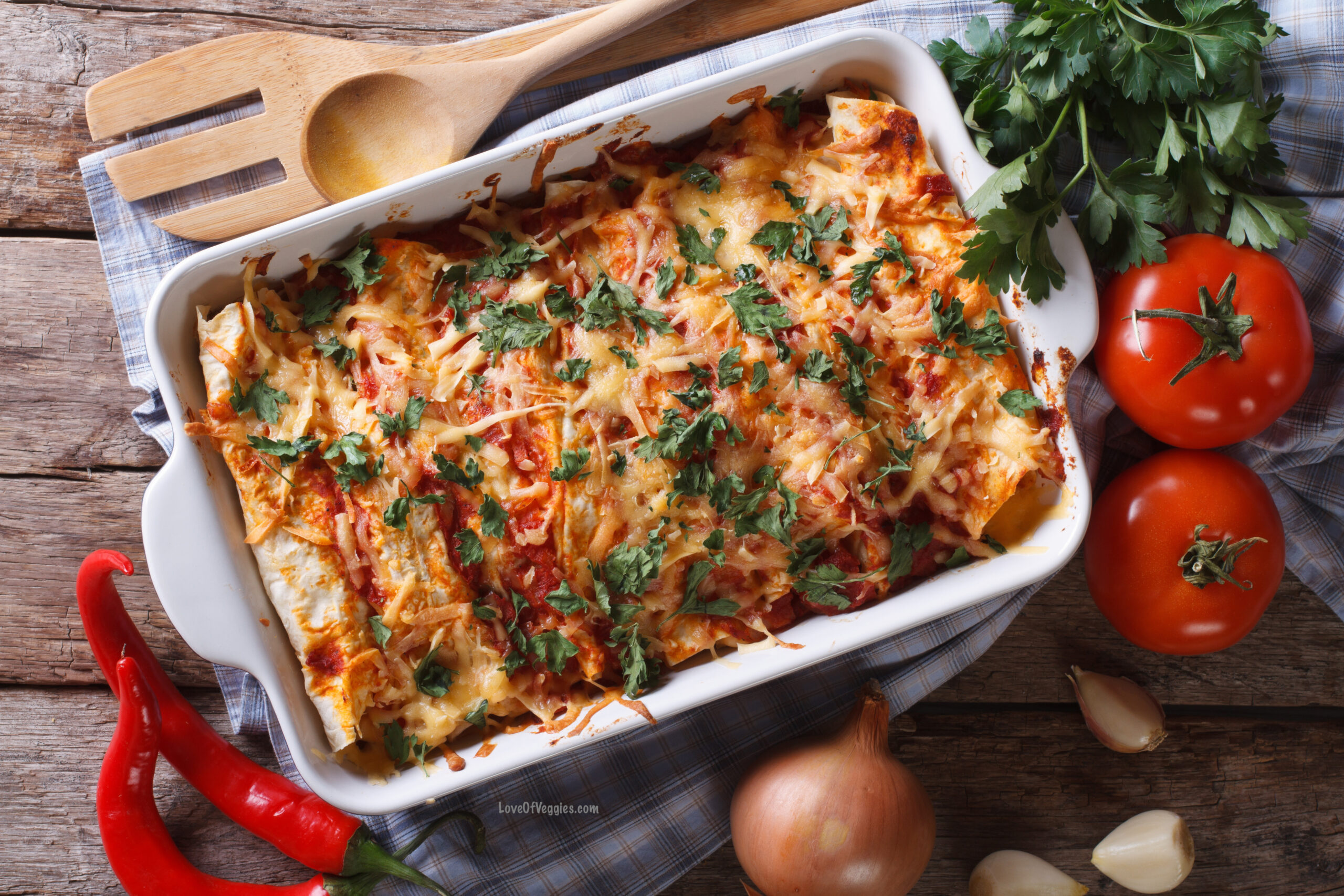 You can also use flour, or corn tortillas. I find the flour is heartier and my kiddo prefers them. But if you want to cut carbs, or make these gluten-free enchiladas, use the corn instead.
Vegan Enchiladas
I filled the next sections with helpful information, and I was sure to keep it short too. But if you want to skip ahead, these links will bring you to the sections you are looking for.
Ingredients in Vegetable Enchiladas
This red enchilada recipe is amazing, and comes with a homemade enchilada sauce recipe. You can cut some time and buy some enchilada sauce from the store, but make sure to check the label to ensure it is vegan.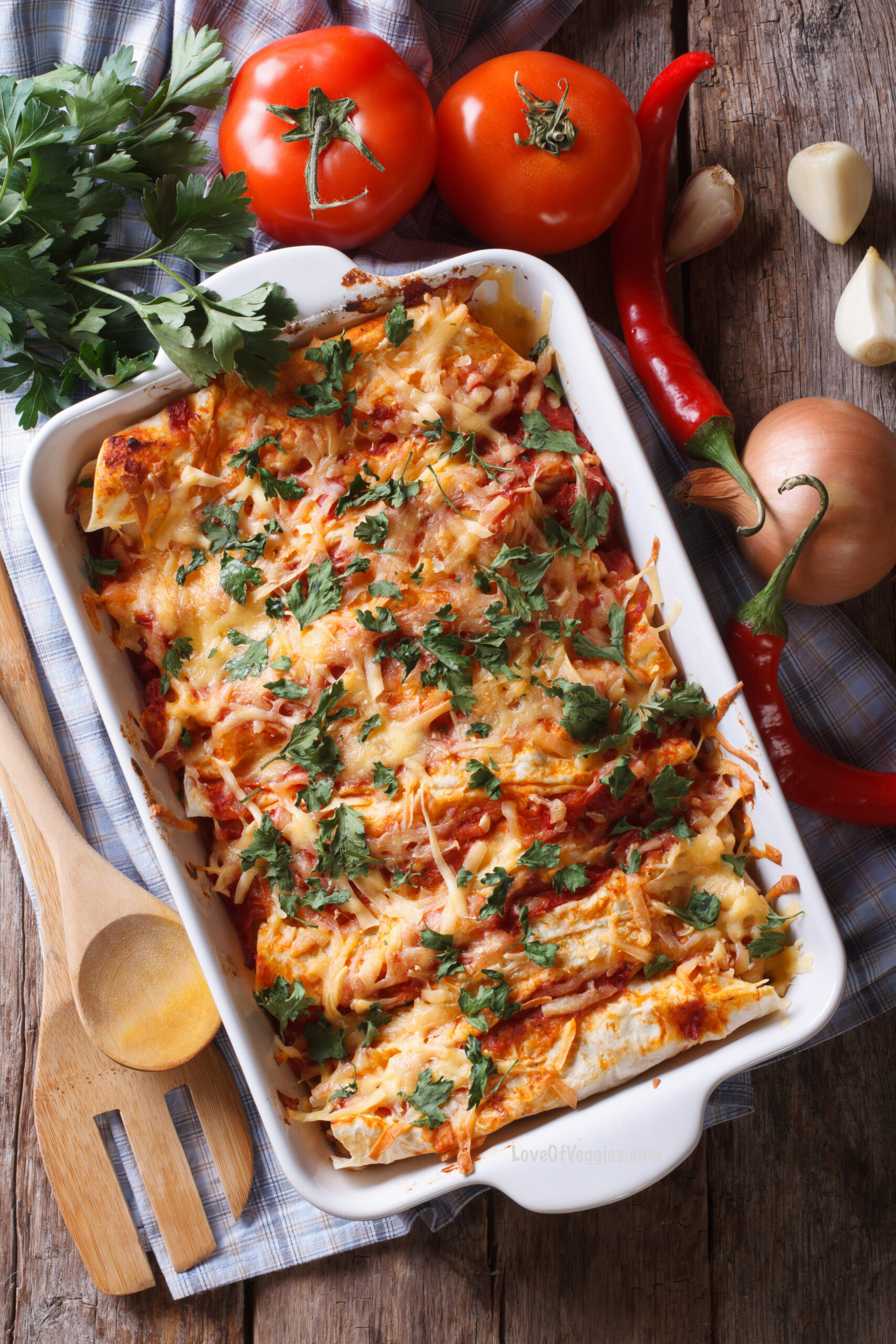 Shopping List for Veggie Enchiladas:
Vegan Enchilada sauce:
1 teaspoon olive oil
1 jalapeño 
1 cloves of garlic
1 teaspoon fresh thyme leaves
1 onion 
1 28- ounce can crushed tomatoes
1/2 teaspoon ground allspice
Vegan Enchilada Ingredients:
8 small flour tortillas (or corn for gluten-free)
1 large onion
1 bell pepper
1 cup sliced mushrooms
1 jalapeño
1/4 cup frozen corn
1/2 cup shredded vegan cheddar cheese
Optional Toppings:
Chopped cilantro
Chopped fresh jalapeños
Sliced olives
Guacamole
How to Make Vegan Enchiladas
It is easy to meal prep these enchiladas. Simply assemble and bake, then portion out into individual containers and freeze or add to the fridge.
They will hold for a month in the freezer and 4-5 days in the fridge. You can reheat in the microwave, or bake in the oven for 15 minutes at 350 degrees (I do this and store them in glass containers so I don't need to move them and create more clean up).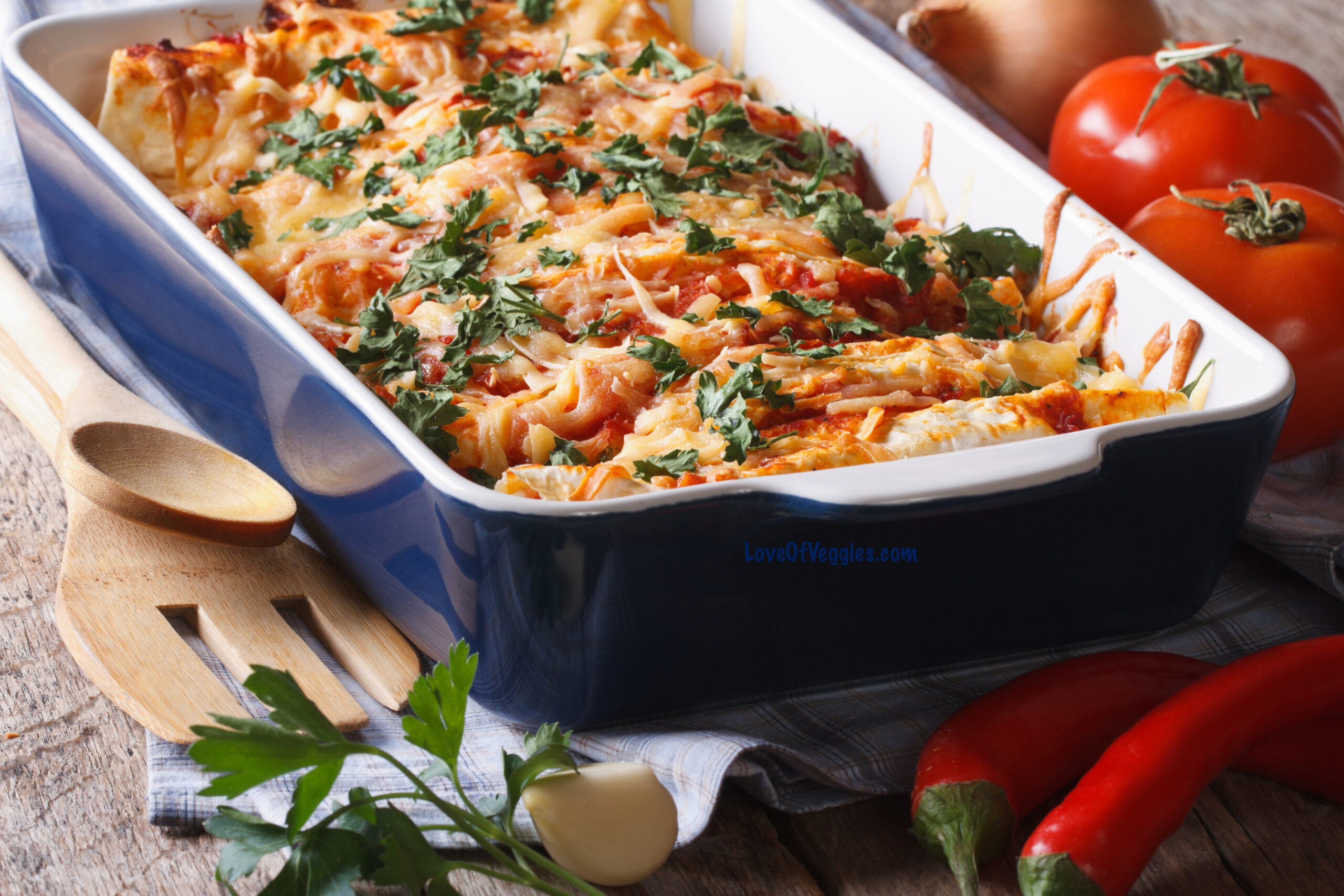 How to Make Veggie Based Enchiladas:
Enchilada Sauce Directions:
Heat the oil in a large pan over medium heat. Add the jalapeño, garlic, thyme, and onion to the pan.
Cook over medium heat, stirring until the onion is soft, about 3 minutes.
Transfer the mixture to a blender, and add the canned tomatoes, allspice, and 2/3 cup of water.
Blend with the lid slightly ajar until smooth.
Pour the sauce back into the hot pan, bring it to a boil over medium heat, then reduce the heat to low and simmer for 10 minutes. Set aside.
Vegan Enchiladas Assembly:
Preheat oven to 400 degrees.
Heat a pan over medium heat, add there and the veggies and cook until they start to soften, about 5 minutes. 
Add in 1/4 cup enchilada sauce and mix well.
Meanwhile, steam the tortillas in the microwave according to directions on package.
Pour 1/2 of the enchilada sauce on the bottom of a 9×13 baking dish.
Hold a tortilla in your hand and add 1 tablespoon of the vegan cheese, and about 1/4 cup of the filling.
Roll up the tortilla and place it in a baking dish, seam side down. Proceed to assemble the rest of the enchiladas
Top the enchiladas with the remaining sauce and vegan cheese and bake for 10 minutes, or until hot and bubbly.
Garnish the enchiladas with optional toppings, and serve hot.
Vegan Enchiladas Recipe
These vegan enchiladas have loads of flavor, and come with a homemade vegan enchilada sauce plus a topping guide.
And in the following section I even supplied you with a nutrition label!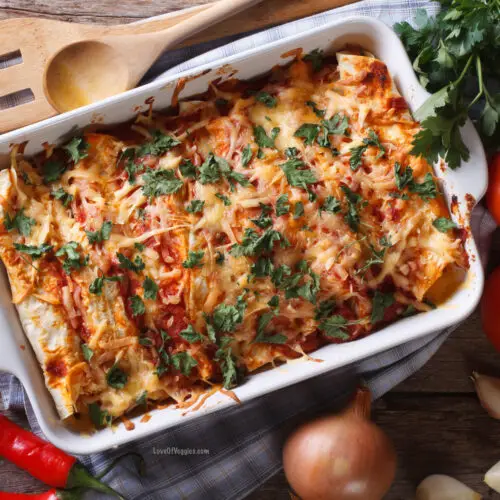 The BEST Vegan Enchiladas
These amazing vegan enchiladas are hearty and filling, and packed with lots of yummy veggies!
You can easily make them gluten-free by swapping out the flour tortillas for corn tortillas too.
Special Tip: You can add in some crumbled tofu to boost the protein too. Just make sure to add it in with the veggies to cook so they soak up all the yummy flavors.
Ingredients  
Vegan Enchilada sauce:
1

teaspoon

olive oil

1

jalapeño

seeded and chopped

1

cloves

of garlic

1

teaspoon

fresh thyme leaves

1

onion

chopped

1 28-

ounce

can crushed tomatoes

½

teaspoon

ground allspice
Vegan Enchilada Ingredients:
8

small flour tortillas

(or corn for gluten-free)

1

large onion

sliced

1

bell pepper

sliced

1

cup

sliced mushrooms

1

jalapeño

sliced

¼

cup

frozen corn

½

cup

shredded vegan cheddar cheese
Optional Toppings:
Chopped cilantro

Chopped fresh jalapeños

Sliced olives

Guacamole
Instructions 
Enchilada Sauce Directions:
Heat the oil in a large pan over medium heat. Add the jalapeño, garlic, thyme, and onion to the pan.

Cook over medium heat, stirring until the onion is soft, about 3 minutes.

Transfer the mixture to a blender, and add the canned tomatoes, allspice, and 2/3 cup of water.

Blend with the lid slightly ajar until smooth.

Pour the sauce back into the hot pan, bring it to a boil over medium heat, then reduce the heat to low and simmer for 10 minutes. Set aside.
Vegan Enchiladas Assembly:
Preheat oven to 400 degrees.

Heat a pan over medium heat, add there and the veggies and cook until they start to soften, about 5 minutes.

Add in 1/4 cup enchilada sauce and mix well. 

Meanwhile, steam the tortillas in the microwave according to directions on package.

Pour 1/2 of the enchilada sauce on the bottom of a 9×13 baking dish.

Hold a tortilla in your hand and add 1 tablespoon of the vegan cheese, and about 1/4 cup of the filling.

Roll up the tortilla and place it in a baking dish, seam side down. Proceed to assemble the rest of the enchiladas

Top the enchiladas with the remaining sauce and vegan cheese and bake for 10 minutes, or until hot and bubbly.

Garnish the enchiladas with optional toppings, and serve hot.
Nutrition in Vegan Enchilada Recipes
Share this Recipe: