This Lemon Blueberry Vegan Oatmeal Recipe is easy and healthy! With optional protein add-ins like nuts and vegan protein powder I know you will love this plant based breakfast recipes as much as I do!
I have been adding lemon zest to my oatmeal for years! It adds lots of flavor, and zero calories. Plus it's the part of the lemon that is almost always left unused.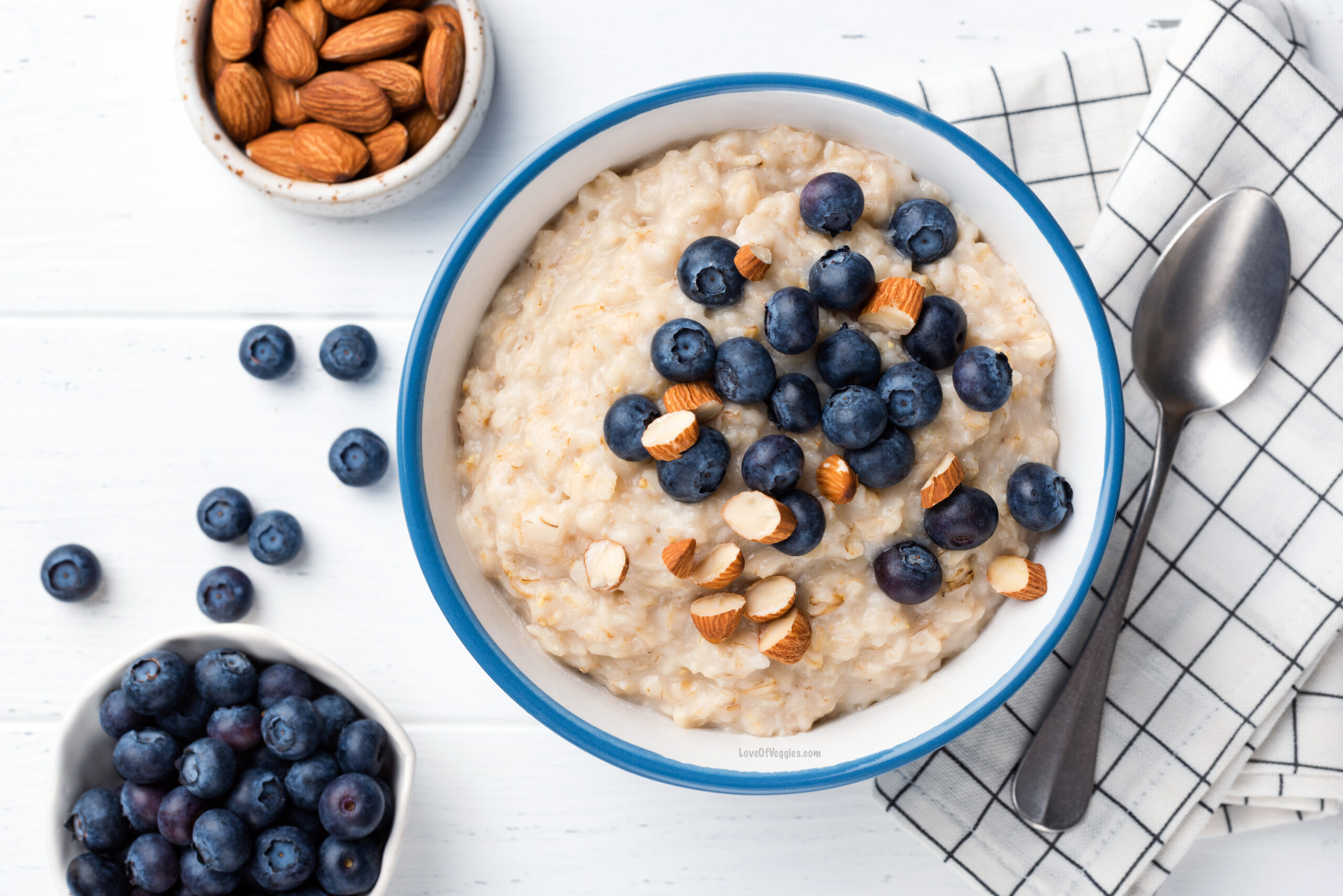 You can choose not to use it (this recipe will still be yummy!) or swap it out for orange zest. I have tried it with lime zest, and grapefruit zest and it's not as good. But try it if you like, you may just love the combination of lime and blueberries more than I do.
Lemon Blueberry Vegan Oatmeal Recipe
Want to skip ahead? These links will help you jump to the sections you're looking for!
Ingredients in Vegan Oatmeal Recipe
This shopping list will help you at the store, and also in your pantry. I often find that I have most of the ingredients on hand without having to go shopping.
I have also supplied you with an add-in and toppings guide below (and in the printable recipe card!) so be sure to check those out.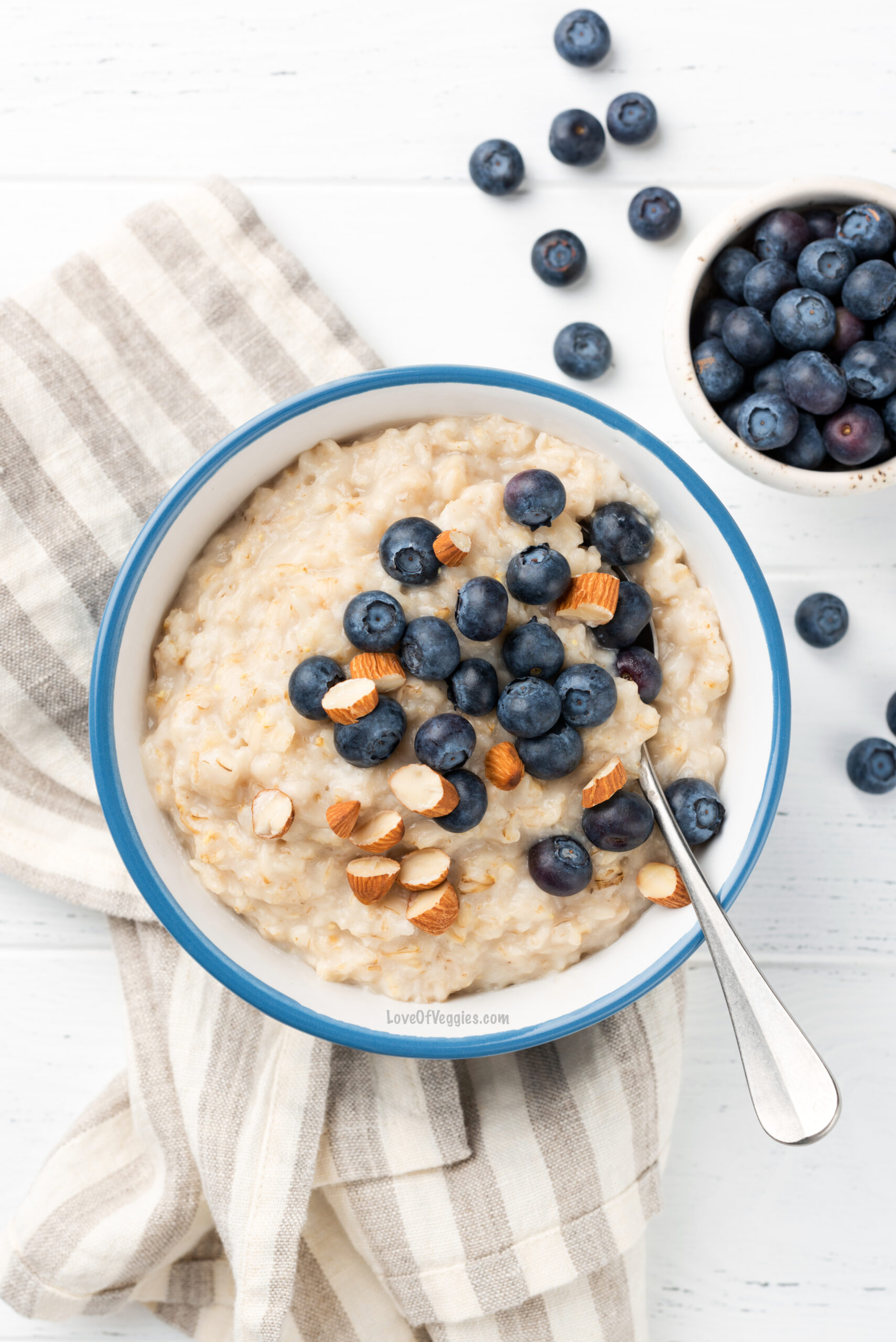 Shopping List for Blueberry Lemon Vegan Oats:
2 cups unsweetened almond milk (or use soy, coconut, or oat milk)
1 cup old-fashioned oatmeal (get gluten-free for a GF recipe)
1 teaspoon vanilla extract
1/2 cup blueberries* (fresh is best)
2 teaspoons lemon zest
How to Make a Healthy Oatmeal Recipe Vegan
Making oatmeal for breakfast is quick and easy. I like to get it started and then when it's cooking on low I can fix my daughter's school lunch, or make coffee.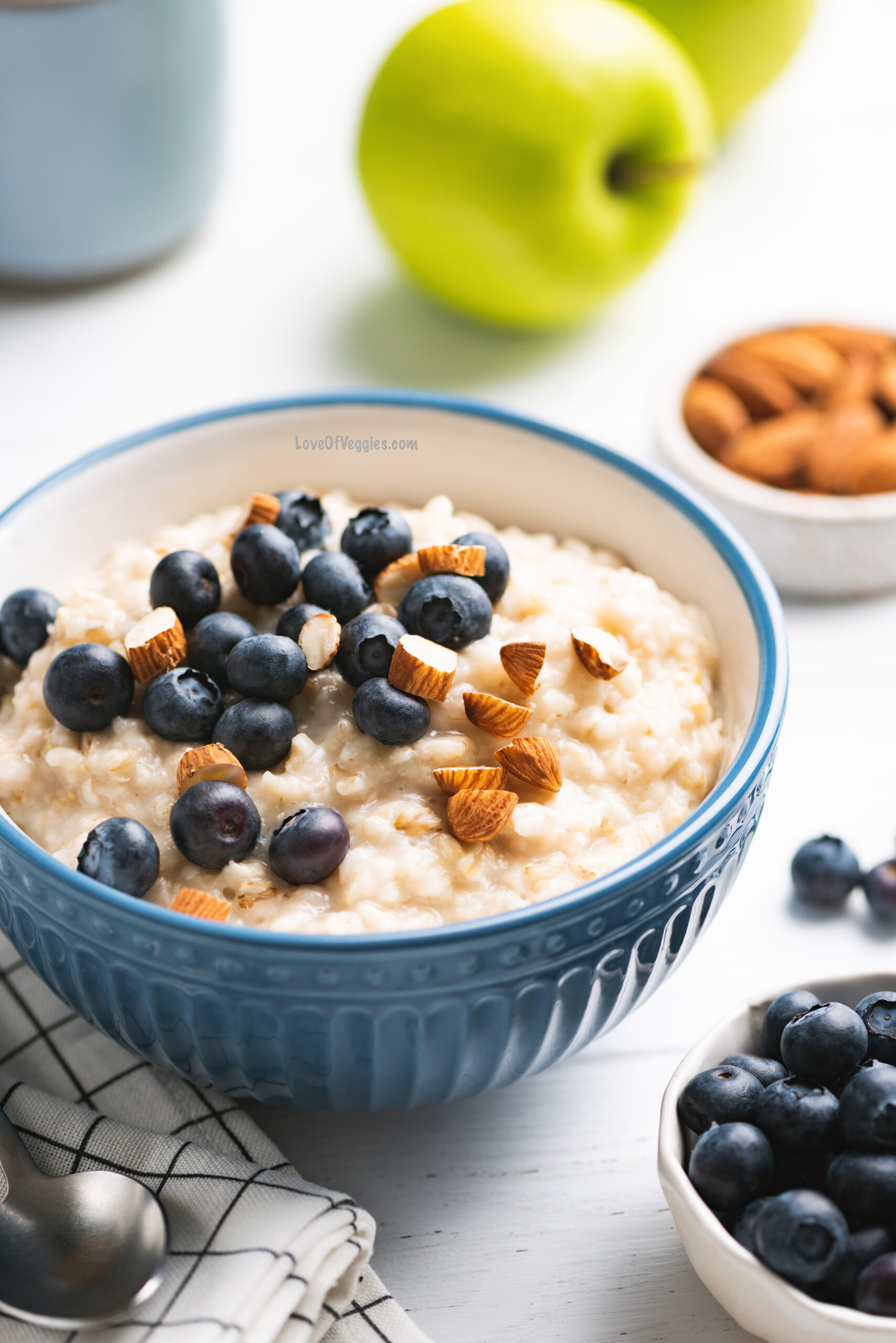 How to Make Vegan Oatmeal:
In a small sauce pan combine the almond milk, oatmeal, and vanilla, cover and heat on low.
Cook until all the milk is absorbed about 15-20 minutes.
Add in the lemon zest and 1/2 of the blueberries and mix together.
Scoop into two bowls, and top with remaining blueberries and desired toppings.
*Special Tip: If you only have frozen blueberries that is ok too. Just pop them in the microwave or soak in hot water. Dried blueberries can be used too, add them in with the vanilla and lemon zest to plump them up while cooking. 
**Special Tip: If adding in protein powder or quinoa, you will need about 1/4 cup more liquid. Choose water or more plant based milk. (Each protein powder is a little different, if your oats are too sticky, you can always add more liquid)
Optional Vegan Oatmeal Toppings and Add Ins:
I like to add extra toppings to my oatmeal when I have them available. This helps keep things "fresh" and new and ensures I never get bored with my breakfast.
These yummy toppings and add-ins are all optional, and not included in the nutrition below. But this oatmeal is so low in calories anyway, you can certainly "afford" to add a few.
Optional Toppings:
2 tablespoons chopped almonds
2 tablespoons chopped walnuts
1 banana sliced
1 teaspoon maple syrup
Optional Add-Ins:
Lemon Blueberry Vegan Oatmeal Recipe
With so many yummy toppings and add-ins I know you will love this vegan breakfast recipe!
In the next section I have supplied you with a fill nutrition label, so keep scrolling for more information on calories, protein and carbs.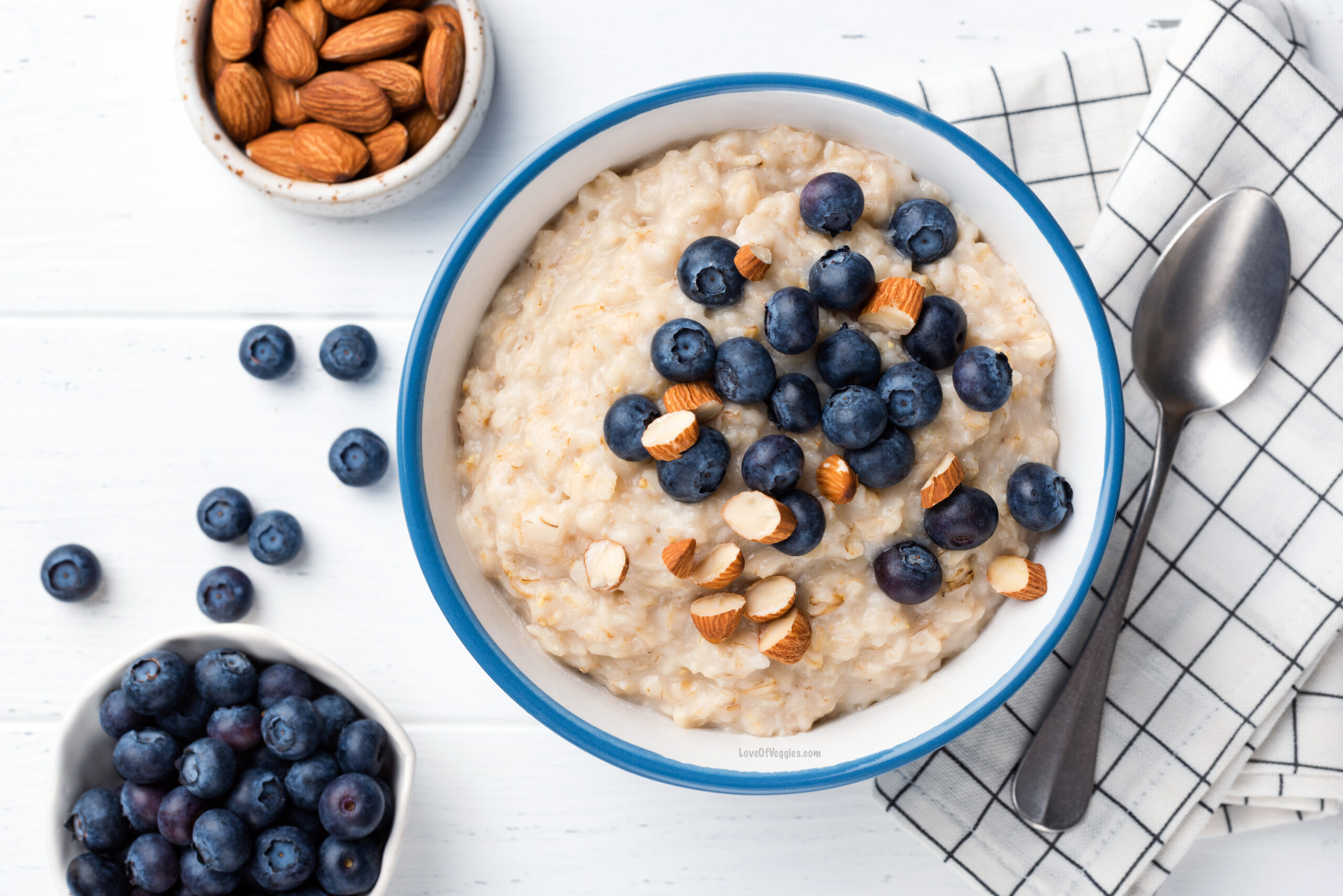 Lemon Blueberry Vegan Oatmeal
This healthy vegan oatmeal recipe is packed with flavor and comes with optional add-ins and toppings!
Try adding in some protein powder, or top with maple syrup and almonds. The sky is the limit when you have all these yummy options!
Special Tip: I like use unsweetened almond ,milk in this recipe. But sweetened, vanilla or your favorite soy, oat, or refrigerated coconut milk will work too.
Ingredients  
2

cups

unsweetened almond milk

or use soy, coconut, or oat milk

1

cup

old-fashioned oatmeal

(get gluten-free for a GF recipe)

1

teaspoon

vanilla extract

½

cup

blueberries*

fresh is best

2

teaspoons

lemon zest
Optional Toppings:
2

tablespoons

chopped almonds

2

tablespoons

chopped walnuts

1

banana

sliced

1

teaspoon

maple syrup
Optional Add-Ins:
1

scoop plant based vanilla protein**

(add in with oats)

¼

cup

quinoa**

(add in with oats)

1

tablespoon

chia seeds

(add in with oats)
Instructions 
In a small sauce pan combine the almond milk, oatmeal, and vanilla, cover and heat on low.

Cook until all the milk is absorbed about 15-20 minutes.

Add in the lemon zest and 1/2 of the blueberries and mix together.

Scoop into two bowls, and top with remaining blueberries and desired toppings.

*Special Tip: If you only have frozen blueberries that is ok too. Just pop them in the microwave or soak in hot water. Dried blueberries can be used too, add them in with the vanilla and lemon zest to plump them up while cooking.

**Special Tip: If adding in protein powder or quinoa, you will need about 1/4 cup more liquid. Choose water or more plant based milk. (Each protein powder is a little different, if your oats are too sticky, you can always add more liquid)
Nutrition and Calories in Vegan Blueberry Oatmeal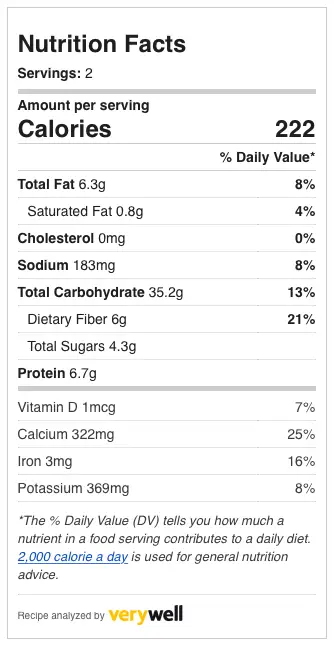 Share this Recipe: